"Anderlecht remains the monster of Belgian football"
SUNDAY, 17 FEBRUARY 2019, 12:04 - lajoya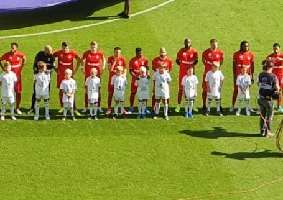 INTERVIEWS Laszlo Bölöni remains wary of RSC Anderlecht, despite the slump that the Brussels club is currently in. Both teams must win to secure play-off 1.


Antwerp is currently in fourth place with 45 points, STVV follows with 42 points, RSC Anderlecht closes the top six with 38 points.
"If we win, and pay attention to my words" if"," says the Antwerp coach, "The we have secured play-off 1. But I am on my guard for Anderlecht, yes they are currently worried, but remains a monster of Belgian football, so respect is in order. "

AA Gent is currently just out of the top six. Coach of AA Gent Jess Thorup is convinced that they should not look to Anderlecht to get play-off 1 but to STVV. "Anderlecht is a top club, they will get play-off 1", Thorup is convinced.


Source: © Internal source
anderlecht-online forum