'Vranjes no longer international after new incident'
SATURDAY, 12 JANUARY 2019, 11:53 - lajoya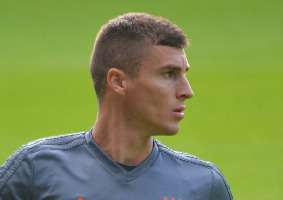 OTHER The chance is real that Ognjen Vranjes is no longer welcome at the Bosnian national team. The reason is a new incident a few days ago. Through his social media, the defender shared a verse from a controversial song.


On Tuesday, Vranjes published a photo on Instagram with a verse from the song 'Ne volim te Alija' ('I do not like you, Ali') by Baja Mali Knindza. Vranjes has removed the photo in the meantime, but the harm was done. Again he got a storm of criticism about him.

The incident too much? Bosnian media learned from federal circles that a ban from the national team is the only possible solution. However, there is no official confirmation yet. National coach Robert Prosinecki has to take the final decision.

A few weeks ago Vranjes was already under fire because he glorified supporters aggression and leaked that he has a tattoo of a controversial figure from Bosnian history. In a further past, Vranjes also showed questionable behavior several times.


Source: © Internal source
anderlecht-online forum