Obradovic hopes for a new chance after New Year
MONDAY, 31 DECEMBER 2018, 10:15 - lajoya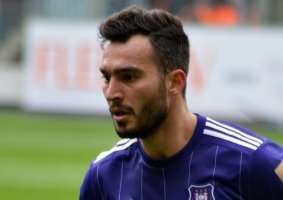 OTHER Ivan Obradovic spends the holiday with his family in Serbia. It did not go well between Obradovic and Hein Vanhaezebrouck and the Serb flew to the B-core. Now Vanhaezebrouck got his resignation, Obradovic hopes for a fair chance after New Year and thus a place in the A-core.
 


The explanation is that Obradovic flew to the B-core because he refused a transfer to PAOK during the summer months. "I would not really dare to say refusing, there was never anything concrete about PAOK, and Lokeren, with all due respect, that was three steps back in my career, but I can still decide for myself what my future will be and if you now we see where Lokeren stands. The decision to send me to the B-core is half of the decision of Hein, the other half of Luc Devroe, although I'm not sure, I do not have a real conversation with both of them. Although I hope that Hein will explain to me one day what I did wrong. "

Obradovic especially wants to let RSC Anderlecht's supporters know that he has not given up yet. "I really hope the board gives me a new chance after New Year, I still dream of a future at Anderlecht and I hope that the new sports director Frank Arnesen and the future coach do believe in me. Michael Verschueren certainly did not exclude a comeback."

Partizan Belgrade believes in the Serb and sees him like to come across during the winter mercato. But Obradovic wants to keep that boat a bit off. "My contract with Anderlecht is still running until the summer and I want to see what happens there now. With Partizan I have been speaking since September but I ask them to be patient for a while. "


Source: HNB (Jürgen Geril)

anderlecht-online forum