5.000 euro fine for Vranjes
TUESDAY, 4 DECEMBER 2018, 13:04 - lajoya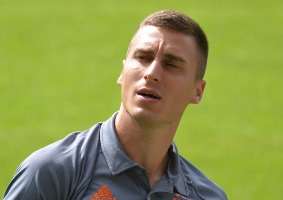 OTHER Also no Ognjen Vranjes in the selection at RSC Anderlecht on Sunday. Whether he is injured or is serving a penalty for his controversial post on Instagram is not clear. The club has now imposed a fine of 5,000 euros on him.


Michael Verschueren had a conversation with the Bosnian about the post last Friday. Afterwards the defender excused himself at the club and the supporters. RSC Anderlecht also imposed a fine of 5,000 euros which he will pay. "I realize that I made a mistake and I've accepted the fine, I apologized to Michael Verschueren and Luc Devroe and I want to do that now to you, the supporters."

There is currently no question of a dismissal or transfer: "Our roads do not part, we feel that he wants to stay. We do expect a change in behavior, "says Verschueren.


Source: © Internal source
anderlecht-online forum