Bornauw with two different shoes
MONDAY, 3 DECEMBER 2018, 21:39 - lajoya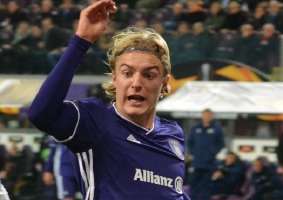 INTERVIEWS Sebastiaan Bornauw was praised by coach Hein Vanhaezebrouck last Thursday. Yesterday he got a slight tap on the fingers. Reason: his shoes. Vanhaezebrouck mainly pointed out "Youthful negligence".


Playing thirty minutes and Bornauw suddenly sprints to the changing room on one shoe and one sock. During a duel, his one shoe was completely torn open.
The young defender sprints to the locker room and comes back outside with a different color shoe. A shoe of teammate Ivan Santini, because Bornauw did not have a spare pair.

"Actually, I do not understand that properly," says Vanhaezebrouck, "In my time we had one pair that we had to do with everything, and today they are being thrown around with shopping carts of football boots, and you do not have a spare pair yet? That is negligence, youthful negligence, so you can see that there is still some work for the youth. 


Source: HLN (NVK)

anderlecht-online forum