Kindermans: "Similarities between Doku and Hazard"
SUNDAY, 2 DECEMBER 2018, 09:33 - lajoya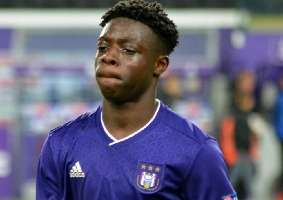 YOUTH 17-year-old Jeremy Doku made a promising debut for Anderlecht last weekend. Expectations are high, because in recent months he has been put forward as the talent of the Anderlecht academy. Rightly so, because Bob Browaeys, who coached many national youth teams, even compares Doku with Eden Hazard.


Jean Kindermans, the head of Anderlecht's youth training, saw Browaeys last week. "When Hazard was 16 years old, he was fast, explosive and dribbling, and he still lacked the end product", says Kindermans. "Only in recent years this has changed at Hazard, so let us remember that when Doku makes a wrong choice in the coming months or years after a good dribble."

That Doku immediately showed very nice things at his debut, makes Kindermans happy. "We were in a decision-making vacuum last season as a result of the management change, but we had to resuscitate the Doku file ten times. With success, the fact that he can show himself now makes me proud."


anderlecht-online forum