Anderlecht imposes Vranjes a fine
SUNDAY, 2 DECEMBER 2018, 08:57 - lajoya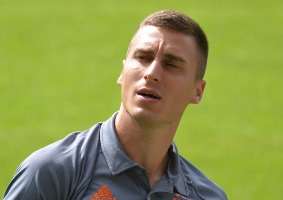 OTHER Anderlecht directors Michael Verschueren and Luc Devroe had a conversation with Ognjen Vranjes about the Instagram-post in which he glorified fanatic violence. The defender was fined by the club.


"We find the message that Ognjen Vranjes posted on Instagram last Tuesday unacceptable for a RSC Anderlecht player," reports the club on his website.

Anderlecht also quote Vranjes: "I realize that I have made a mistake and accept the fine imposed on me by the club. I apologized to Michael Verschueren and Luc Devroe, and now I would like to apologize to you, the supporters of RSC Anderlecht. I understand that the message I have posted is inacceptable, so I hope that you accept my apologies and that I can count on your support again. "Together we can get great results with RSC Anderlecht."


anderlecht-online forum