"Vranjes is a good defender but too rash"
SUNDAY, 2 DECEMBER 2018, 08:51 - lajoya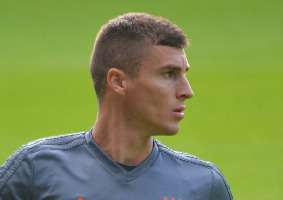 INTERVIEWS A journalist notes that Ognjen Vranjes is no longer the happy rash player than he was at the beginning of the season. All the fuss that currently plays around him also weighs on him and he has also already cost his team points, says Hein Vanhaezebrouck.


"Vranjes is a good defender but you also have to admit that he is too foolish, on and off the pitch, so he has already cost his team points, and he continues to make those same mistakes, and now with all the fuss, which we are busy with, it might be that it starts to weigh a bit on him, "says the coach.

"I also think it's a bit strange that the Bosnian Federation is only now responding to a tattoo that has been on its arm for a long time, and I do not know that guy who is on his arm. So they may be offended by that in Bosnia, but then they should have reacted earlier and not now when there is consternation around a player. He has already played several times with the Bosnian national team and then no one reacted", according to Vanhaezebrouck.


anderlecht-online forum