Coucke: "Try to reconnect with European sub-top"
TUESDAY, 27 FEBRUARY 2018, 20:46 - lajoya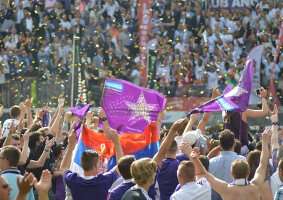 INTERVIEWS Yesterday, new Anderlecht-chairman Marc Coucke was a guest in the football talk show Extra Time. He spoke in his famous style about the last winter mercato and his financial plans with Anderlecht.


Coucke: "When I used the word suboptimal, I was not talking about financial policy. The red figures in the newspapers give a wrong idea. Football has a very weird way of accounting. If, on the same day, you buy and sell a player for ten million euros, you have, for example, eight million euros profit. There is a big difference between the numbers and reality. "

"I have a lot of respect for what Roger Vanden Stock has built up. He obtained 10 titles. I will be happy even if I get half of that. But he did it his way, I will do it mine. I'm going to do something different. Also financially. At Anderlecht it was a long time: we take risks and if we succeed we play Champions League and if we do not succeed we sell a player. "

"The word suboptimal was about the last transfer period. I do not understand what happened. A mercato is constantly playing chess. Last month there was interest for five players from KV Oostende. We had a possible replacement for all five. In the end, only Sébastien Siani left. An hour and a half later we had a replacement. That is policy. "
 


anderlecht-online forum