"Anderlecht has one top striker and that is Teodorczyk"
TUESDAY, 27 FEBRUARY 2018, 19:43 - lajoya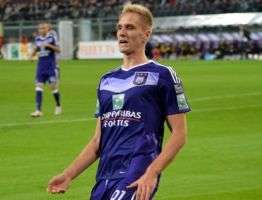 INTERVIEWS It was a long time ago, but Lukasz Teodorczyk was once again the star of Anderlecht. Both Marc Coucke and Hein Vanhaezebrouck were very happy with his three goals. "This was what he needed, and I hope he has finally started."


Before the game, Teodorczyk had a good conversation with Marc Coucke. He did not want to share what he said to his striker. "At Anderlecht, more matters must remain internal", Coucke said. "I am very happy for him, with all respect for the other strikers, but Anderlecht only has one top striker at the moment and that is Teodorczyk. He was the only one who proved that he can do it. Teodorczyk will be very important this season. glad that he scored three times. "

Coach Hein Vanhaezebrouck also liked to see it happen. "I hope he has finally started," said the coach. "This was what he needed, but he also received good support, and Saief and Gerkens were very important."

Teodorczyk himself did not want to talk to the press as usual. Het Laatste Nieuws heard in his entourage that the words of Coucke had done him good. 


anderlecht-online forum