"First job: conversation with Hein"
SUNDAY, 25 FEBRUARY 2018, 10:37 - lajoya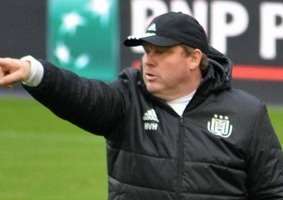 INTERVIEWS Hein Vanhaezebrouck said yesterday at the press conference that he had already spoken with Marc Coucke. The future chairman also admits this. And the first thing on the agenda is a good conversation with Hein Vanhaezebrouck.


"We've heard each other before," Coucke admits, "The reason was that a journalist had written that I was not a fan of Vanhaezebrouck, and I immediately phoned Hein to say that these were the lies of the press. I am honest, I really enjoyed winning against Vanhaezebrouck as chairman of KV Oostende, he is grumbling a lot and then always waving those arms, although I've seen some improvement lately. "

"But Hein is a very good coach and of course I am glad he is my coach now The first thing I am going to do is have a good conversation with him, so I have  confidence in Hein Vanhaezebrouck. If he will the coach next season? Probably, "says Coucke.


anderlecht-online forum