"They could rent five Mitrovic"
SUNDAY, 25 FEBRUARY 2018, 10:30 - lajoya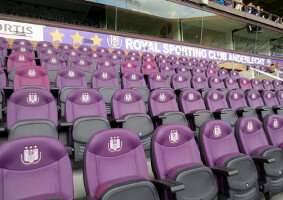 INTERVIEWS This weekend it is happening: Marc Coucke is chairman of RSC Anderlecht. At least unofficially until March 1, due to the rivalry legislation. He wants to explain some things about the past winter mercato.


The past winter mercato of RSC Anderlecht, like their current way of playing, was miserable. Coucke admits that he has followed everything, but he was not involved at all times. "The last day of the winter mercato I was constantly on the internet to follow the developments. At 11PM, I thought, damn, Mitrovic does not come. I admit that certain arrangements have been made when I have taken over the club, but it is not true that they were only were allowed to sell and not buy", says Coucke.

"Of course, also financial agreements were made , but I'm not going to destroy my own future club. They had a large financial margin. They could have rented five Mitrovic. But I have stayed correct. I don't understand why they said that there was actually nothing that could happen during the mercato because of the takeover. I have often noticed that they like to contradict each other there", Coucke is honest.


anderlecht-online forum