Anderlecht take three points in Lokeren (1-2)
MONDAY, 4 DECEMBER 2017, 14:23 - D.A.B.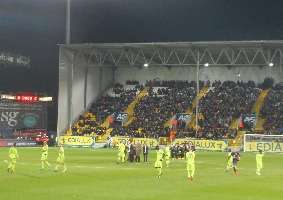 GAMES Anderlecht took the three points against Lokeren after winning 1-2. The Mauves played a decent match, but the three goals of the match were all contested. The gap with Bruges is now 7 points as the leader lost points against Eupen (2-2).

The Belgian champions started with a lot of pressure and this resulted in a goal after 15 minutes: Appiah brought the ball in the box and Gerkens scored with a header. Lokeren protested as Appiah had pushed Söder just before his centre. Anderlecht continued to create chances through Teodorczyk and Hanni, but when referee gave a penalty for Lokeren after 30 minutes, it was Anderlecht's turn to protest. Appiah had lightly pushed De Sutter in the box, but was it enough for a penalty? Skulason converted it anyway: 1-1. Lokeren took control over the match now and had four excellent opportunities to score. Luckily for Anderlecht they were all missed.

Anderlecht took over again after the break and rapidly scored: Hanni passed to Onyekuru and he easily scored. The linesman flagged for offside, but the goal counted anyway. Lokeren defender Rassoul had lost the ball to Hanni and intentionally stepped behind the goal line in an effort to create an offside position for Onyekuru. Referee Boucaut had correctly noticed it and judged Rassoul still took part of the game. The goal counted: 1-2. At the end of the match, Harbaoui, Trebel and Onyekuru all came close on deciding the match, but it remained 1-2. 


anderlecht-online forum