Boeckx: "At this level, you need to be a lot sharper"
THURSDAY, 2 NOVEMBER 2017, 10:27 - lajoya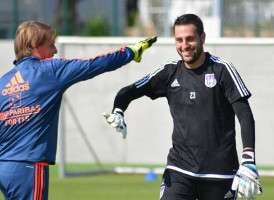 INTERVIEWS Frank Boeckx played instead of Matz Sels Tuesday in Paris. The goalkeeper had to turn around 5 times. "We end the game with 5 goals conceeded and not one yellow card, that says enough", the goalkeeper said.

"At this level you need to be sharper and not to be scared to put your foot down. We knew that this would be a kind of game to learn things from. We need to take these lessons with us for the competition and try to do the same thing with our opponents as PSG did with us. Sunday Bruges will come, but Bruges is not PSG. This will be a completely different game." 
anderlecht-online forum