Anderlecht also beat Ostend: 1-4
SUNDAY, 19 FEBRUARY 2017, 23:27 - Skyhawk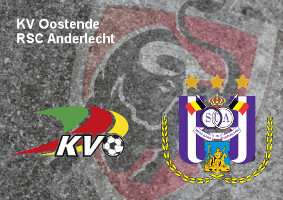 GAMES Anderlecht won this evening against KV Ostend, the number 4 in the ranking, with 1-4. Thanks to this victory, the Mauves join Bruges again at the top of the table. Ostend is now already 10 points behind. The game was memorable, especially thanks to two world class goals of Tielemans.

Anderlecht started with Trebel in the starting line-up instead of Tielemans. Acheampong, match winner against Zenit, started on the bench.

The game started well for Anderlecht. After just two minutes of play, Chipciu stormed alone towards goalkeeper Dutoit. The Romanian player opened for Hanni who pushed the ball into the empty goal: 0-1. The Mauves tried to control the match, but Ostend was dangerous through Dimata. It was also that same Dimata who equalised. After 24 minutes, goalkeeper Boeckx was unable to sufficiently stop a shot. The ball hit Hanni's hand in the rebound: penalty, scored by Dimata. Bruno and Dimata had a few other chances in the first half, but the 1-1 remained on the scoreboard.

At the start of the second half, Anderlecht coach Weiler was forced to make two changes: Kara and Hanni got injured and were replaced by Spajic and Tielemans. Ostend tried to take control over the match, but couldn't score. The goal fell on the other side after 67 minutes: Tielemans controlled the ball and shot from about 20 metres with his right foot in the upper left corner of the goal: 1-2. Two minutes later, Tielemans proved he could do the same with his left foot: from about the same distance he placed the ball in the upper right corner: 1-3. Ostend kept trying, but Teodorczyk finished the match: after a good control, he scored with a nice volley: 1-4; final result. 


anderlecht-online forum