Anderlecht beat KV Ostend in the last second
MONDAY, 9 MAY 2016, 22:12 - Skyhawk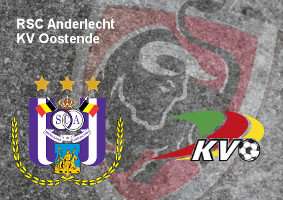 GAMES Anderlecht won with 2-1 against KV Ostend, but had to wait for the very last second of the match to celebrate. With this victory, the Mauves close the gap with Bruges, that still plays later today in Ghent.

Anderlecht performed very poorly in the first half and could be lucky with just the 0-1 score at half time. It was Bruno Godeau that scored for Ostend. The second half was better though, with Filip Djuricic in the team. Under his impuls, the home side immediately moved forward and Okaka could have scored the equaliser after just one minute, but he missed. A few minutes later, Acheampong was brought down in the box and Tielemans scored the penalty: 1-1

Goalkeeper Ovono escaped from red twice: first he pushed Tielemans and a few minutes later he brought down an Anderlecht player that had broken through. Referee Wauters did not give a new penalty though... When Defour had to leave the field with an injury, Anderlecht's attacking waves slowly died out. Until the very last second of the match: Okaka headed the ball against the net: 2-1.


anderlecht-online forum