RSCA - OHL 3-2
MONDAY, 30 NOVEMBER 2015, 17:15 - Skyhawk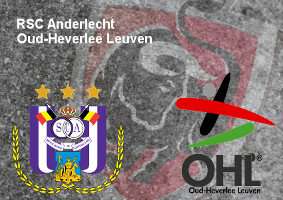 GAMES A lot of people stayed home yesterday instead of attending the match between Anderlecht and OH Leuven. Due to the threat of terrorist attacks in Brussels, the game was also broadcasted live and for free on Telenet and Belgacom. Anderlecht won the match with 3-2.

The Mauves played with a rather experimental team. Nuytinck replaced Deschacht in the defence and Ezekiel and Sylla formed the offensive line. And after just two minutes it already became clear that Nuytinck was missing match rhythm. The defender was not thorough enough in his intervention, OHL brought the ball in front of the goal and immediately opened the score: 0-1 (Croizet). The Anderlecht squad still hadn't woken up and escaped when the linesman (correctly) flagged for offside when OHL scored a second goal. Slowly but surely the Mauves took control over the match without really creating chances. So it wasn't surprising that the equaliser followed on an individual action: Suarez effort from outside the box went in with some help from the post: 1-1. 

OH Leuven remained the most dangerous team and nearly scored again: a good Proto reacted the fastest and prevented Remacle from pushing the ball into the goal. On the counter attack Anderlecht created danger. The result was a corner kick and which Sylla was faster than goalkeeper Riou. The striker headed the ball against the net: 2-1. Right before half time, Praet, all alone in front of the goalkeeper, wasn't able to score the 3-1. 

The second half started with another early goal for the visitors: Croizet brought the ball to Trossard and he scored the equaliser: 2-2. But Anderlecht played better than in the first half. The pressure resulted in several chances. The best one was for Najar, but he hit the crossbar. A few minutes later the goal fell: Okaka found goalkeeper Riou on his way, but Sylla scored in the rebound: 3-2. Leuven also unleashed an offensive and Anderlecht counter attacked. The best chance was for Suarez, but he was stopped by Riou. Final score: 3-2. 

 


anderlecht-online forum