Anderlecht take three points against Mouscron
MONDAY, 2 NOVEMBER 2015, 16:13 - D.A.B.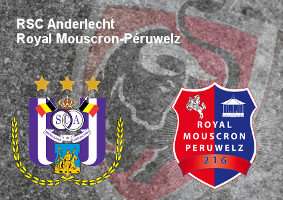 GAMES Anderlecht took three points yesterday by beating Mouscron with 2-0. It wasn't an easy match though, especially because Defour was suspended and Praet got injured during the warming-up. Mouscron had a few good chances, but Najar decided the match with two goals.

Anderlecht clearly suffered from a lack of creativity without Defour and Praet. The Mauves played a slow first half and could not prevent Mouscron from being dangerous a few times. The 0-0 score at half time was logical.

The second half was slightly better. There was more movement in the game and Najar could score on a fast counter-attack after Proto had kept Mouscron from scoring on the other side. Anderlecht did not look for a second goal and allowed the visitors to search for the equaliser. The goal fell again on the other side: in stoppage time, Najar dribbled past the goalkeeper and scored: 2-0. Meanwhile, Obradovic had been carried of the field with a serious injury...


anderlecht-online forum